HANDBAG DESIGNER AND LEATHER MOGUL MATILDA VENCZEL
MAY 30, 2021
BY KRISTIE WILLIAMS


Check out our interview with leather mogul and designer Matilda Venczel below.


The designer describes leather tanning as a craftsmanship and uses both synthetic or vegetable-tanned leathers, free from chrome. The vegetable-tanned leather has numerous steps and synthetic leather is used for pale colors. She tries to show as much of the leather grain as possible to highlight a more natural look.


VENCZEL—her label—uses unconventional shapes and an array of colors for eye-catching handbags. Each handbag is accompanied with oversized chain-links or palladium hardware that connects a leather strap, which adds a modern flair to each piece.

Unlike other designers who disregard the body conscious movement, Venczel created VENCZEL as an accessories line to avoid limitation for who can wear her handbags and small leather goods. Her geometric atypical vibrant and grayscale colored pieces are to be worn by everyone



Tell us about your journey into fashion.


I grew up in a very small town in the south of Sweden, with an industrial vibe, built around a Volvo factory. I was very determined about what I would wear as a kid and was really into clothes, but growing up in a town like that, the only access to fashion and design was through magazines and music. I was in music school and loved David Bowie so I naturally experimented a lot with various sewing and DIY projects, trying my best to look original.






Images courtesy of Teitur Ardal, styling, and art direction by Nicole Walker



At 16, I had the humble vision of becoming a world-famous designer [laughs]. I moved out, to a bigger city to study in a textile and design program. After graduating, I also studied a bit of sculpture in Stockholm before applying to universities. I applied to a few different schools and chose Antwerp (mainly because of Margiela and the Antwerp Six). Someone told me it was the most difficult school in fashion, which just made me more intrigued, I really love a challenge. Antwerp was so intense, the teaching methods were extreme and after a while, it completely killed my creativity. I applied for an apprenticeship at Carol Christian Poell (C.C.P) and moved to Milan instead of continuing my studies. The leather and tanning experiments at the C.C.P studio fostered my interest in the material (leather). The approach towards design was so refreshing at C.C.P. He created his own rules, which were completely irrelevant to the fashion industry, and it completely changed my way of looking at fashion and design.



Images courtesy of Teitur Ardal, styling, and art direction by Nicole Walker
Why did you stop designing for other brands and launch your own line?


I don't think I really had a choice; I don't like to compromise and I'm a bit of a control freak. I sought out to work for independent designers like Carol Christian Poell and Ann-Sofie Back, where I would get relevant experience, the goal was always to do something of my own.

I hadn't planned to focus on accessories though, but I was hired by a Swedish tannery to be their in-house leather goods designer (Tärnsjö Tannery is located in the Swedish forest and has been making vegetable-tanned leather since the late 1800's). They handle the whole process in-house, from a rawhide fresh from the slaughterhouse—to the final product, a hand-stitched chair for Fredericia, a saddle, or a briefcase for TG1856 to be sold at Selfridges (it's all in the same building). I focused on the design of leather goods for their own brand TG1873 and they taught me the craft of saddlery.


Most of the leather they produce is rigid, thick leather normally used for saddles and harnesses for horses. I was constantly experimenting and exploring techniques on evenings and weekends, there wasn't much else to do in the forest. I wasn't particularly interested in bags before I started making them, and maybe that gave me a different way of approaching it; I focus more on shapes and how they can become functioning objects. At some point I realized I had made something quite interesting and didn't really see something similar somewhere else, so I thought maybe there's a place for it.

I presented my first collection in September 2017 in Paris, just to see if someone would buy it, and now it's been almost 4 years.



Images courtesy of Teitur Ardal, styling, and art direction by Nicole Walker
How would you describe VENCZEL's signature style?


I really hate to talk about this, actually. I wish the products would speak for themselves or I could let someone else speak about them. When I design, I know I want it to be raw and refined. I think the unconventional shapes make the brand quite distinctive, on top of that, I only work with superlative materials…


What inspires you to create fashion accessories?


The search for new shapes and to make something I haven't seen before. It's inspiring to not have to design with a specific body in mind, anyone can wear my bags and accessories, it's quite free. My limits are more within how do I make an interesting shape? How to get to that tension that you see in good designs? How to insert function into the object? I use the most durable techniques and details to make it last for a long time, so if it's not a durable detail I don't use it, and that informs how my products end up looking too.

Images courtesy of Teitur Ardal, styling, and art direction by Nicole Walker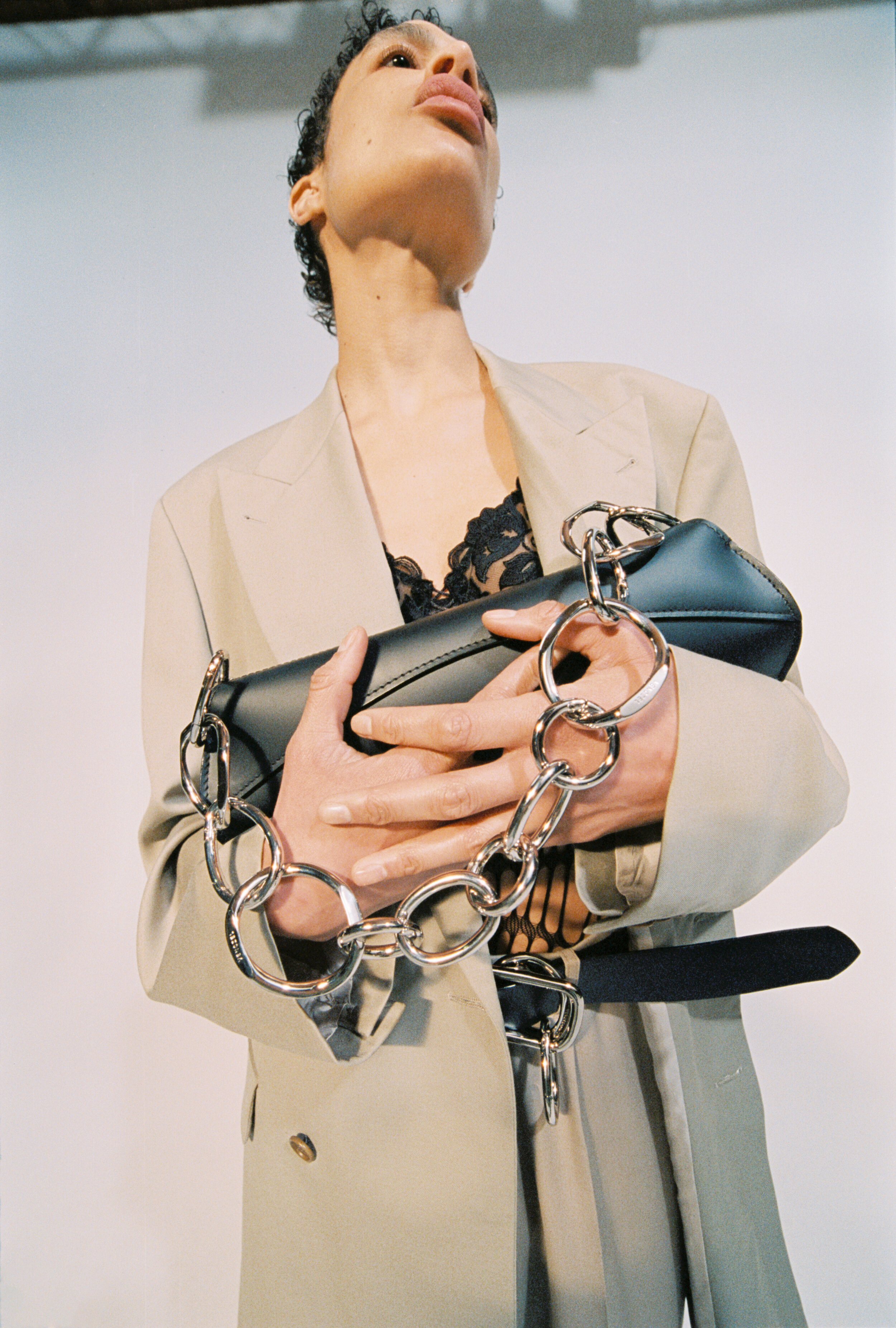 Images courtesy of Teitur Ardal, styling, and art direction by Nicole Walker
Will you explain the tanning process of your leather and your relationship with leather?

I've worked with one type of leather for about 4 years now, and I'm getting quite interested in expanding, maybe to softer leathers and suede. Leather is by far my favorite material. I think everything about it is interesting—the feel, that it's been a living animal, the smell, that it's extremely complicated to make, and that it's really durable, but at the same time needs care to look good for a long time. I love the variations in look and feel that depend on the tanning and animal, and it's the most annoying thing but I love the fact that you only get one chance when stitching in leather.

When you consider all that, leather should actually be super expensive, just the energy that goes into making one hide, from the second the animal is born. I feel a responsibility that it needs to be constructed with care and durable; otherwise it's such a waste.



Images courtesy of Teitur Ardal, styling, and art direction by Nicole Walker

I work with a few tanneries, in Europe, that work only with byproducts from agriculture and only with European animals. I use synthetic or vegetable-tanned leathers, free from chrome. The process takes quite long for making vegetable-tanned leathers—they are tanned using bark, mimosa, or other natural tannins. There are so many steps to create leather and on every step something can go wrong that you won't notice until it's finished. Tanning is very much craftsmanship. The lightest color you can get from vegetable-tanned leather is beige, so I sometimes also use synthetic tanned leather for the white, pale colors. I try to show as much of the grain as possible of the leather, because I love the natural look, but it's a balance, it also needs to be protected a bit, so it can stand light and a bit of wear and tear.






A lot of the leather other designers use in a similar space as my brand, and at a higher price point, is just very badly made leather covered with a thick layer of rubber paint on top. Customers aren't so used to real leather anymore, so it's sometimes a bit of a problem when I try to explain that if you can see some texture, that it's a bit different here and there, and there's a bit of differentiation in color, that actually means it's of amazing quality.





Are your bags influenced by any form of art/artists or architecture?


For visual influence, I look a lot at cars, the shapes, colors, and the tension in their shapes—they really want something, I love designs that want something. Both Carol Christian Poell and Ann-Sofie Back influenced me a lot, maybe not aesthetically, but their visions. I prefer abstract form language, like the works of Richard Serra, Noguchi, and Brancusi. Sometimes it can also be something I don't really like, and it's a challenge like how can I make this interesting? Like the McDonald's apple pie packaging.




Images courtesy of Teitur Ardal, styling, and art direction by Nicole Walker



What's next for VENCZEL?

I need an investor and a business partner, to take VENCZEL from being a one-woman company to having an actual team, then shoes, and then world domination [smiles]. I could see it expand to almost any product besides clothing in the future.