INGY STOCKHOLM
SEPTEMBER 19, 2020
BY KRISTIE WILLIAMS
Photography by Peter Farago
The inspiration behind the unique meteoroid shaped earrings designed by Ingela Klemetz-Farago began during a walk through Stockholm's royal park Djurgården, where she brought home a piece of tree bark and transformed it into accessories for her ears. Together with her husband and photographer Peter Farago, she created the vision for jewelry label INGY STOCKHOLM.
Paying homage to brutalist artists Louise Nevelson and Bourgeois, the designs have a bold rigid geometric style and evoke a feminist force through their shape. The colors pull from Klemetz-Farago's first love, nature—the silver and gold representing the earth's crust, the blue of the sky, the white reminiscent of snow in Sweden, and the red of volcanic magma.
Photography by Peter Farago
INGY STOCKHOLM earrings are all unique, one-of-a-kind, and asymmetrical. Once purchased, the conversation pieces belong only to you, continuing the ongoing aesthetic of individuality and self-confidence. This fall, stay connected with the hybrid of fashion and nature with INGY STOCKHOLM's launch of oversized silver rings and bracelets.

We talked with INGY STOCKHOLM designer Ingela Klemetz-Farago about her passion for art, nature, and what you can expect from her next collection.


Photography by Peter Farago
Your jewelry is reminiscent of nature or cosmic discoveries. What inspired these meteoroid-esque designs?


I have always been obsessed with accessories. I wanted something that had soul, that made a statement, an object that empowered me as a woman. I like abstract, brutalist forms and big graphic shapes, whether it is art, like Louise Nevelson or Louise Bourgeois, or jewelry; not conventionally feminine, but work that carries a stronger feminine force, that needs to get expressed.



What materials are used for INGY STOCKHOLM? Where do you source your materials?


Nature has always been a big part of my life, it's where I find peace, fulfillment, and where my creativity starts. All the pieces in the earring collection are made from old fallen trees that have been altered and shaped by different weather conditions. Working with a material that has roots and attaches to earth has a direct link to my philosophy. The earring collection is like celestial bodies coming back to life. The collection is inspired by cosmic abstract life forms and every piece is carefully handpicked and treated, making each object unique and one of a kind.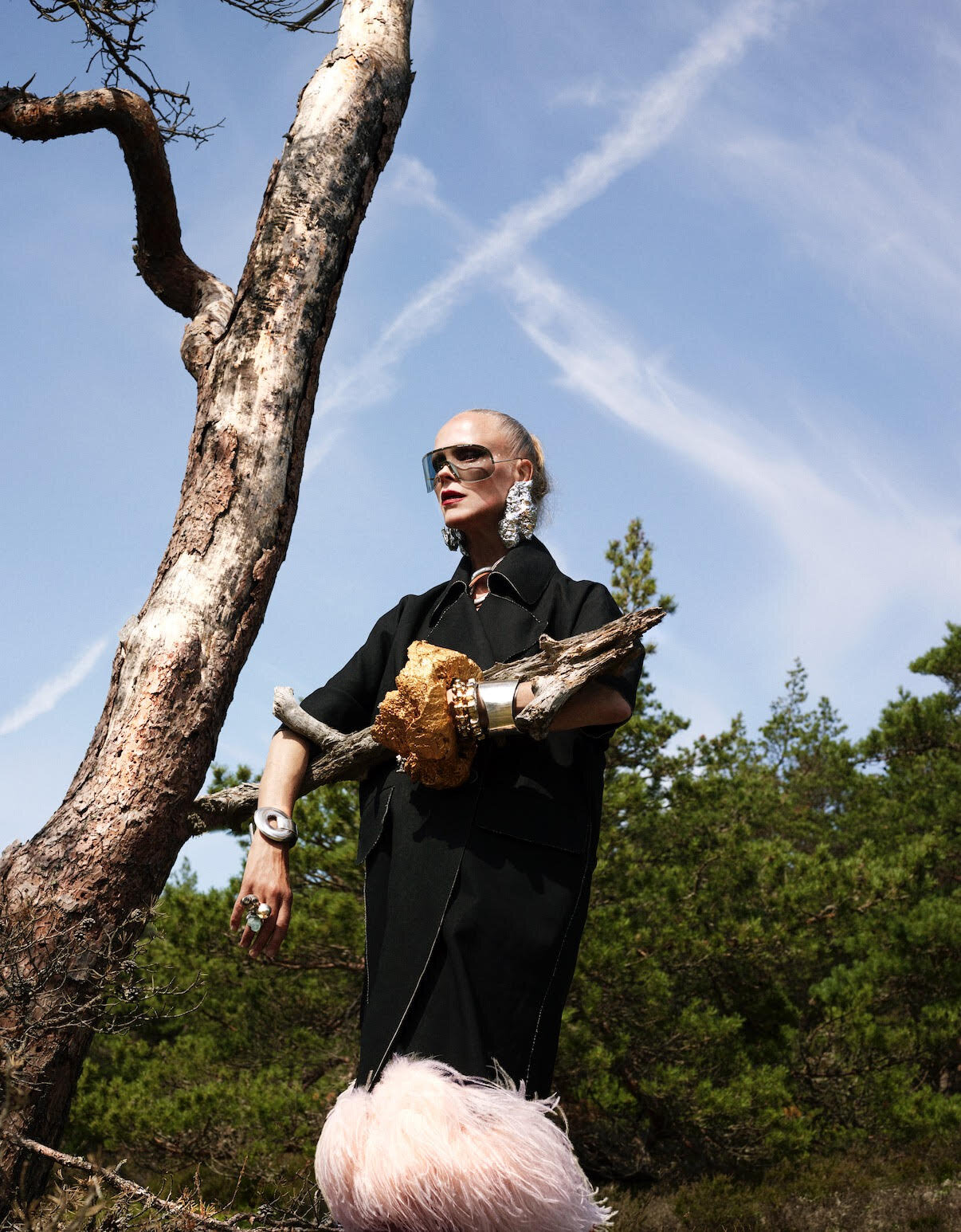 Photography by Peter Farago
I read you also display your jewelry as art pieces around your home. As a woman who creates bold and unique pieces, who are some of your artistic influences?


Louise Nevelson, Lynda Bengalis, and Louise Bourgeois are three women I'm really fond of. I also love how Marcel Duchamp created art out of waste—very inspiring.




How has your background of photography and modeling impacted the creative direction for INGY STOCKHOLM aesthetic?

I think it's part of everything I do, it has to come from the heart…whether it's our photographic work, my lyrics to my music, or my designs, they are all a part of me. Nature is my biggest inspiration for everything.