CHRISTINA SEEWALD
MAY 28, 2020
BY KRISTIE WILLIAMS
The eclectic, streamlined debut of Christina Seewald at London Fashion Week 2019 was truly a vision—one that caught the eye of luxury and streetwear boutique, SSENSE. The Austrian native and Central Saint Martins textile-design graduate sources inspiration from all walks. Feminist artists, 80's power-dressing trends, and designers Prada, Issey Miyake, Madame Gres, and Helmut Lang are just a few to name.
photo by
Vanessa Kügerl
Seewald's clothing, often handcrafted, is heavy in knitwear and mesh, refreshing the present-day take on femininity in fashion. From ribbed cashmere blends to asymmetric patchwork dresses, to overlong-sleeves and turtleneck sweaters, dauntless confidence is the quintessence of her collection, framed in soft-hued neutrals. Using textile and fabric manipulation, Christina Seewald designs pieces that redefine body norms with new shapes and continues to promote progressive feminism conceptually through her work.
Learn more about new and contemporary designer Christina Seewald, how fashion chose
her
, and what to expect next.
photo by Vanessa Kügerl
How did you become interested in fashion design? Tell us about your journey.


Since I was very young I was fascinated by textiles and crafts in general, I was always collecting small samples and playing around with my mother's clothes. I always appreciated craftsmanship and hand knitting. I believe I always was going towards the direction of creating and designing, therefore I pursued studies in Central Saint Martins and when I finished my BA, I applied for the master program and really defined my brand from that point onwards.




You studied textile-design at Central Saint Martins in London, will you explain textile-design and how that plays into your work?


There is a lot of craftsmanship involved in my designs, especially the textiles: I make everything from scratch, from the tailoring, textile manipulation, and fabric manipulation. As I mentioned on the previous question, I am very attracted to the tactile sensation so most of my textiles are handmade or hand-knitted, there is also a lot of crochet pieces, everything is really tailored and carefully executed but one of the most important aspects from my textile design is the contrast between fine fabrics and more rough ones, it's evident on some of my basic pieces, for example, the mesh vest tops.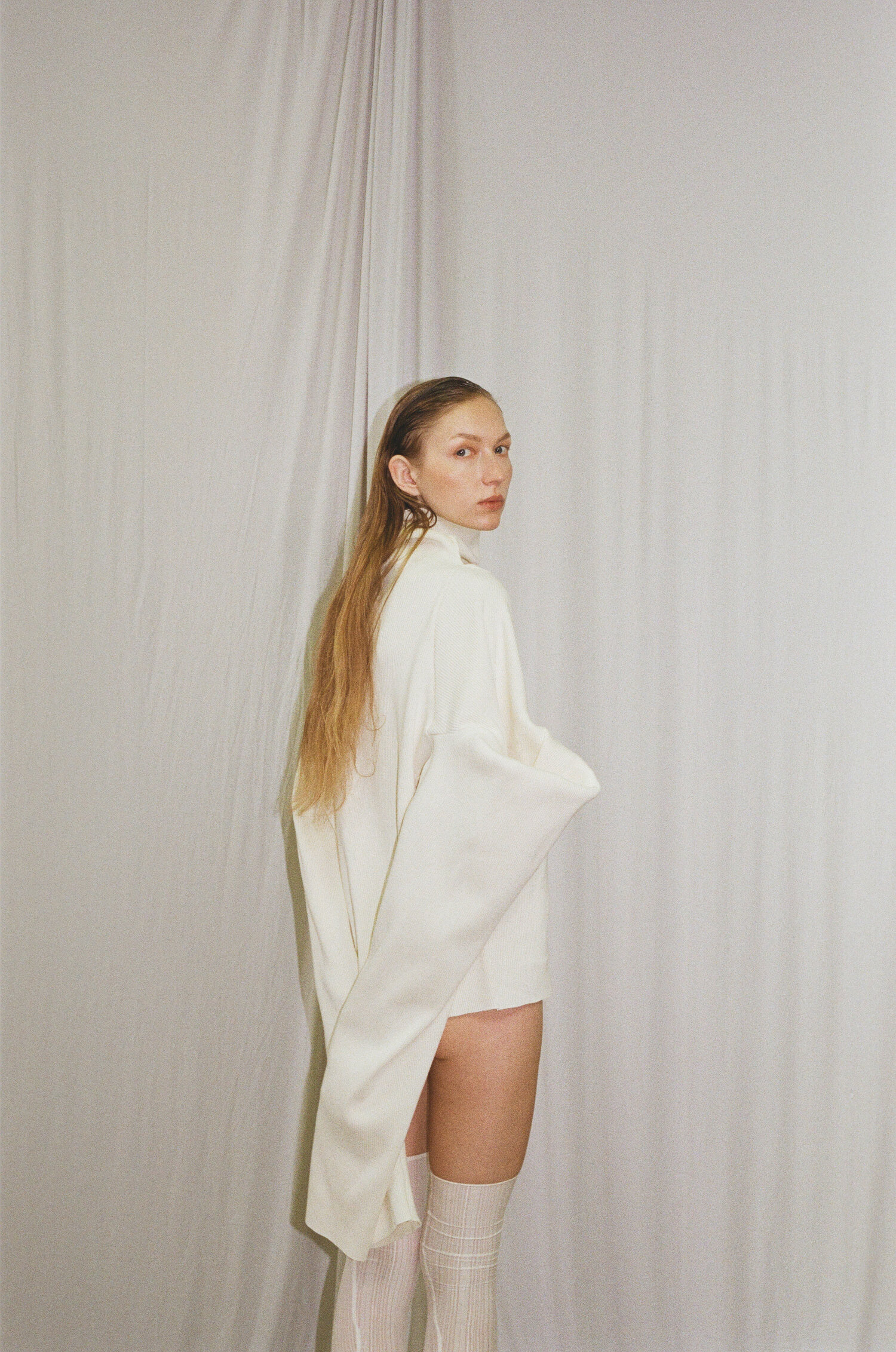 ph
Vanessa Kügerl
What was your process for preparing for London Fashion Week 2019 and preparing your 2020 collection for SSENSE?


It's different if you design a collection for your master's degree or for your brand because you have to consider a lot more. From the production to the buyers to the actual preparation and logistics of the show. When I was designing for MA I was designing with high-quality materials, like cashmere. The choice of material is very different from when you are trying to establish your brand: is it washable? is it comfortable? is it wearable? That preparation really changed. The first show was very exciting and seeing it all coming together was a great achievement, the new shows are more tailored to my brand and clients/buyers needs, also my brand identity is much more defined ever since my LFW show, I think you can observe that with my collection for SSENSE.




What was your inspiration for your 2020 collection?


The 2020 show was about a woman's pursuit to explore and really bring out her inner sensuality, sexuality, and self-confidence. The collection is about power dressing, being confident about what you wear. The scrunchies were a 90's approach but the power dressing is relatable to the 80's woman: Woman embracing a style and wearing a suit, unapologetically and with a lot of confidence. The SSENSE collection is for example influenced by the works of female artists such as Eva Hesse, Valie Export, Ana Mendieta, and Mierle Ukeleles. More explicitly these artists have inspired the tactile and visual elements of the collection, directly influencing the textures and colours used.



Who are your favourite fashion designers?


I love old Prada, Issey Miyake, Madame Gres, and her drapes have been a great inspiration for me. Knitwear wise I would say Helmut Lang.


photo by Vanessa Kügerl
In what ways do these female artists help you convey feminism through your designs?


I was inspired by the ways in which these artists present a state of femininity, commenting upon how women often feel trapped in their appearance by having to conform to what is perceived as "clean" for a woman.




What can we expect for Christina Seewald? Future goals? Hints for next season?


The next season will be about performance and well-being. I cannot reveal a lot as to what other inspiration is behind it, but I believe it has a very strong potential and message.For the future of my brand, I hope that I can stay consistent with my brand identity and to explore more mediums, definitely to have a bigger team!